Rockpool Apartment.

North Berwick
BOOK WITH CONFIDENCE - COVID CANCELLATION POLICY
If guests are affected by Covid-19 lockdown, and we cannot legally provide you with accommodation, or you are unable to travel, due to a breach in Covid restrictions, we are offering guests vouchers, a date change or a full refund. We cannot cover for your disinclination to travel, or personal reasons that you or your party might be experiencing. We would ask that you refer to your travel insurance policy.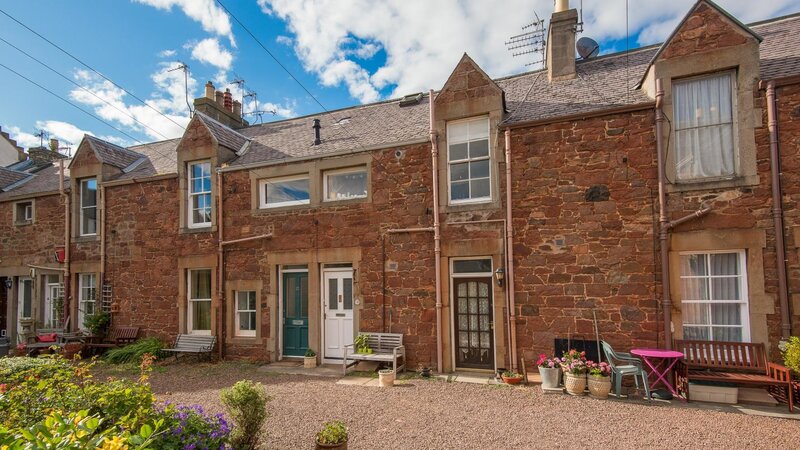 Delightfully cosy first floor mews apartment, close to the beach and tucked away in a quiet and pretty courtyard. Sleeps 2
---
Description
Rockpool Retreat is the perfect first floor seaside holiday apartment for two. The property is located right in the heart of North Berwick and is only a minute's walk from the sandy beaches, the harbour and famous Scottish Seabird Centre. As the name suggests, the stunning Milsey Bay is just down the road; during high tide in the summer, everyone is found playing in the large tidal pool while at low tide you can walk for half a mile along the coast line up to the Glen Golf Course and out along the rocks to explore the wonders that live in the rock pools. North Berwick boasts a fantastic selection of pubs and restaurants for everyone also only a couple minutes' walk from the property. If you fancy staying in and cooking up your own delicious meals, the High Street offers great convenience stores, delis, butchers, bakery and even a shop to purchase your own choice of tea and coffee. The tennis courts, putting greens and the famous North Berwick West Links Golf Course and Glen Golf Course are all no more than 10 minutes walk away. North Berwick Train Station is also about a 15 minutes walk from the apartment - catch the train into the wondrous City of Edinburgh, only 30 minutes' ride and late trains home allowing you to fully explore Scotland's capital city.

Rockpool Retreat is south facing and overlooks a shared courtyard and garden. Sit outside on the bench and take in the unique sight of our famous volcanic hill called The Berwick Law. If you are feeling fit and want to see an incredible and breathtaking view of North Berwick and the Firth of Forth, take a walk up The Law - it is definitely worth it!

Bedrooms:
1 Bedroom sleeps 2
A double bedroom with a king sized bed which can be converted to twins on request.

Sitting / Dining room:
The stylish sitting room with a flat screen TV/DVD and a dining table which comfortably seats 4

Kitchen:
Fully equipped brand new kitchen, with gas hob, electric oven, dishwasher, washing machine, microwave and fridge with freezer compartment, kettle, toaster and many other items for self catering.

Bathroom:
The shower room has a walk in shower, wash hand basin and w/c.

Suitable:
Rockpool Retreat is just the place for the two of you to take a break, or make it a romantic occasion

General:
Central heating, electricity, bed linen, and towels are all included in the rental.

Please note that public parking in North Berwick can be complex as the rules vary according to season and year to year. We recommend following the signs upon arrival in North Berwick and also advise considering your options for this prior to check-in as it is unfortunately something we are not able to assist with on the day

Book Now
To make a booking you can book directly through our website its safe and secure. All you need to do is select your dates and the number of guests. The price will be calculated for you . You will then be required to pay a minimum of £150.00 as part payment, which is non refundable in the event of a cancellation. Then, 42 days prior to your arrival date the balance will be payable with a separate refundable damage deposit of £150.00 due 7 days before your arrival date. Your refundable damage deposit will be held until you depart and then automatically refunded back onto your card within the week after you depart

Please browse through our Scottish self catering cottages and holiday apartments. We have a wonderful choice of properties to meet your preferences and requirements, whether it is a Scottish golfing break or a family holiday.
Other facilities
Central heating
Quiet location & courtyard garden
View to Berwick Law
100m to the beach
Strict 'No Smoking' policy
Sleeping arrangements
One double bedroom with a kingsize bed, which can convert into two singles beds on request.
Interior layout
Entry into the apartment is from the courtyard and through the property's front door with internal stairs leading to the first floor level. The accommodation is all on the first floor level.
Exterior
The apartment is located in a quiet courtyard which faces a shared garden and drying area
---
Special offers / late deals
To book a short break or an arrival day other than a Saturday call us +44 (0)1620 671966 we will be happy to help.
---
Awards and Memberships
Linen and bedding
Linen provided

Yes

Bath towels provided

Yes

Bedding provided

Yes
Domestic
Dishwasher

Yes

Fridge

Yes

Oven

Yes

Microwave

Yes

Iron / ironing Board

Yes

Washing machine

Yes

Hair dryer

Yes
Outside
Connectivity
Suitability
Entertainment
TV

Yes

DVD player

Yes

Radio

Yes

iPod docking station

Yes
---
North Berwick, Lothian
Directions
Rockpool Retreat, 18 Melbourne Place, North Berwick, EH39 4JR

Continue along High Street. First turn right into Market Place, turn right into Forth Street. At intersection of Quality Street and Victoria Street, go over intersection. Turn right at the 'T' junction of Melbourne Place. 20 yards on the right is the entrance to the courtyard and number 18 is on the right side. To park, continue past the entrance to the courtyard and this brings you into the Imperial Car Park. Free and very safe.

what3words: ///unfounded.diamonds.shipped
Parking
Restricted on-road parking, but free parking in public car park - Imperial car park.

Please note that public parking in North Berwick can be complex as the rules vary according to season and year to year. We recommend following the signs upon arrival in North Berwick and also advise considering your options for this prior to check-in as it is unfortunately something we are not able to assist with on the day: https://northberwickparking.org.uk/ or https://www.eastlothian.gov.uk/info/210566/roads_and_transport/12308/parking/3
Check-in from 16:00
You will be asked to check-out before 10:00
Nearby
Horse riding
Swimming (Indoor)
Cycle hire
Cycle paths
Boat hire
Golf
Fishing
Surfing
Water skiing
Gym
Leisure centre
Sports ground
Health spa
Shops
Supermarket
Express supermarket
Bar / Pub
Restaurants
Café
Internet café
Public wireless internet
Playground
Beach
Also nearby
LOCAL TRANSPORT INFORMATION
Edinburgh Airport - 30 miles / North Berwick Train Station - 15 minute walk. Local bus service following the coastline to Edinburgh. Taxi information on request.

Dirleton Castle, Tantallon Castle, John Muir Walks, boat rides out to the islands including famous Fidra Island and seabird sanctuary Bass Rock. Climb our very own volcanic mound called The Berwick Law and last but not least, International golf qualifying course, North Berwick West Links and The Glen Golf Course.
Local area
1 minute away from the award winning Scottish Seabird Centre. North Berwick voted Scottish Seaside Resort 2013 and home of famous international qualifying North Berwick West Links Golf Course.

Nearest Wine bars/ restaurants and pubs:
Zitto's, Cusina Amore, The Rocketeer Seafood Restaurant,The Herringbone, The Ship Inn, The Golfers Rest, The County & The Auld Hoose are on/around the High Street & within a 5- 7 minute walk.
---
Reviews
Guestbook reviews
A superb apartment in a great location - We stayed in Rockpool Retreat for a week and had a wonderful time. We would highly recommend this apartment which is well appointed, comfortable, centrally located and ideal for 2 people. The flat is new and when we arrived it was clean, fresh and welcoming. 
North Berwick is an excellent location for a holiday. It is on a beautiful coast with lots to offer - from golf to seabird watching to traditional beach activities. The town has plenty of restaurants and shops and has good transport links to Edinburgh, Glasgow and the Central Lowlands of Scotland. There are plenty of things to do and see in this area. 
North Berwick is easy to get to by road or rail. An ideal touring center.
- Robert S, Sheffield
- 06 Sep 2018
Rockpool Apartment.
Anonymous guest
Perfect break - We really enjoyed our time at "Rockpool", perfect location and accommodation for a holiday by the beach. Loads of things to do within Berwick and the surrounding areas and only 30 minutes form Edinburgh. Accommodation decorated to a high standard with lovely touches to make our stay even more comfortable. Highly recommend this accommodation and location.
- Laura B, Bolton
- 27 Aug 2018
Rockpool Apartment.
Anonymous guest
Great location,well equipped,very comfortable - We were in North Berwick for tennis and the flat was only a 5 minute walk to courts but still only a few minutes to get to high street. The flat was well decorated, modern and had everything we needed. Ideal for 2 people. There was a little courtyard where you could sit in the sun. Totally recommend.
-Anne C, Stirling
- 28 Jul 2018
Rockpool Apartment.
Anonymous guest
North Berwick is a beautiful place and Rockpool Retreat is situated close to all amenities. Walked most places and caught the bus into Edinburgh.
Everything in the apartment was high end and comfortable.
- Jenny B
- 19 Sep 2017
Rockpool Apartment.
Anonymous guest
Superbly appointed apartment, clean and compact close to all amenities and beach. Seabird Centre just around the corner and North Berwick Law can be seen from the lounge window! Good restaurants on the doorstep and convenient car parking yards away.
- Trip Advisor
- 18 Sep 2017
Rockpool Apartment.
Anonymous guest
The centre town location is very good for both shops and also being close to the beach and harbour.
My wife and I thoroughly enjoyed our stay
- James L
- 04 Sep 2017
Rockpool Apartment.
Anonymous guest
Enjoyed staying in this apartment. Felt at home - clean, comfortable and everything new. Lovely well equipped kitchen but if you don't want to cook, loads of pubs and restaurants all within a couple of minutes walk. Come out of the apartment, left turn and you are on the sea front - simple!
We are returning.
- D.McL, Germany
- 31 Jul 2017
Rockpool Apartment.
Anonymous guest
What a wonderful holiday at Rockpool Retreat! This delightful flat is very close to all the amenities and sights of North Berwick – less than 150 steps (according to my Fitbit) to the beach, bakery, fish & chip shop, ice cream parlour as well as numerous excellent restaurants. Inside the décor is lovely and it is well equipped. It is spacious for two and would be perfectly comfortable for four adults. There is also a lovely view of North Berwick Law. We did not know the area before but it is truly beautiful. We loved our walks on the beach and sitting in the sunshine in the communal garden. There are local buses that go up and down the coast and the station is in walkable distance, so you can walk a long way along the coast and easily get back home, or pop into Edinburgh without worrying about parking. Thoroughly enjoyed our stay – we will be back next year!
-R Hamilton, Winchester
- 30 May 2017
Rockpool Apartment.
Anonymous guest
Me and my boyfriend stayed at the Rockpool Retreat and had a fantastic time. The apartment is beautifully decorated to a very high standard. Excellent location, situated in a lovely courtyard that makes it feel very private but all you have to do is walk out the courtyard and you are looking at the beach.
It's only a short walk away from the high street which has delicious cafes, restaurants and traditional Scottish pubs to visit.

Making Rockpool Retreat your starting point to go and see the local tourist attractions is perfect. The attractions we enjoyed were walking around the castles, the seafari boat trip, a walk up Berwick Law hill (which you can look onto from the kitchen) and of course relaxing at the beach.
-Emma C, Glasgow
- 12 Apr 2017
Rockpool Apartment.
Anonymous guest
Lovely well equipped flat. Comfortable, contemporary feel. Very close to stunning beaches & teaming rockpools. Thriving high street within strolling distance, independent shops, restaurants and cafes. Excellent rail service to Edinbrough, frequent trains, short journey and late last train.
-KW Middlesbrough
- 26 Feb 2017
Rockpool Apartment.
Anonymous guest
Rockpool Retreat is perfectly situated for exploring North Berwick and surrounding area. The beach, harbour and Main Street are minutes away. There is free parking on the street or in the main car park. 

The flat is light and beautifully decorated. All appliances that you may need are available in the flat. We found the information booklet very useful with instructions about the use of all these items. 

Although the flat is very central it feels secluded in it's own little courtyard with a lovely view of North Berwick law. 

We had a fantastic stay and would recommend it to anyone.
- Trip Advisor
- 23 Oct 2016
Rockpool Apartment.
Anonymous guest
We both thought this was a lovely flat - it is nicely decorated and well-equipped. It is both convenient for the seafront and for going up to Edinburgh.
We took a boat trip out to the Bass Rock and would be interested in staying next year when the puffins are around.
J.Mooney
- 10 Sep 2016
Rockpool Apartment.
Anonymous guest
A bright clean modern flat which feels spacious and light, set in a pretty seaside town. Everything you need is included, bed is comfortable and the living area has a cute window seat for reading and admiring the lovely garden courtyard. The kitchen was fully equipped and looked new, the bathroom is spacious and clean. I felt very at home.
North Berwick has lovely beaches on the doorstep, literally out of the door and over the road, and pretty places to visit very close by. We loved Dirleton and Tantallon castles, both within ten minutes drive and the Museum of Flight was a treat. We used the train to go into Edinburgh during the festival and it was very easy.
North Berwick itself has some lovely restaurants a fabulous ice cream shop which we visited every day, and great coffee shops.
Our stay was peaceful and comfy. I cant wait to go back. NJW, England
- 27 Aug 2016
Rockpool Apartment.
Anonymous guest
We loved the property and its location. It was clean, comfortable and suited our needs well. We would have no hesitation in recommending it to others.
S.Heron, Cheshire
- 13 Aug 2016
Rockpool Apartment.
Anonymous guest
It was a pleasure to stay in Rockpool Retreat and we will certainly look to stay again.

It's in a good spot, the bed is comfy, the kitchen and bathroom are excellent - the shower is good and additional towels are a nice touch.

M.Prior, Basildon
- 06 Aug 2016
Rockpool Apartment.
Anonymous guest
Very sweet flat, everything new and nice details. Homely atmosphere.
Modern kitchen - all you need.
You directly feel like coming home.
The only negative thing I could complain, is, that the flat hasn't got a seaview but it takes you only one minute to the beach.
Lovely stay that I would recommend to everyone. D&K van Meerbeck, Germany
- 30 Jul 2016
Rockpool Apartment.
Anonymous guest
We had a great holiday in this flat!
Many good points include ....Wifi ,TV , comfy beds and nice linen, VG shower. drying area, sunny seat and cheery neighbours. M.Lauder, Edinburgh
- 09 Jul 2016
Rockpool Apartment.
Anonymous guest
Rockpool Retreat – a "little gem" in North Berwick. This beautifully presented accommodation is set in a tranquil suntrap of a shared walled garden in which we enjoyed outdoor coffees and drinks. The long sandy beaches and picturesque town are all within a minutes walk. Good restaurants and pubs are reasonably priced and the top class gelataria (Alandas) is worth a visit.

Mel & Edie, County Durham
- 15 Apr 2016
Rockpool Apartment.
Anonymous guest
Rockpool Retreat has been fantastic and we're so glad to have come to somewhere that we can't wait to get back to ! The flat provides everything one could wish for in a holiday let. Dave and Lyns, Teesside
- 10 Mar 2016
Rockpool Apartment.
Anonymous guest
Write a review of Rockpool Apartment.
---
Availability and booking Help

4Unavailable dates

4Available check-in dates

4Available check-out dates

4Unavailable check-in / check-out dates
Checking availability....
Contact us about this property